Have you ever wondered why kangaroos are wary of humans? Could it be that they've been hunted by us for thousands of years and have learnt that we're not to be trusted? I'd go with that theory but there's more to the story…..
For most of my 70 years I've been around kangaroos; you'd think I'd be bored by them but they fascinate me like no other creature, and it's not simply their remarkable biology — there's something about the way they view the world, and what they can teach us, that intrigues me.
(Read this great story from One Green Planet about lessons we can learn from animals)
You can't outsmart a kangaroo
Kangaroos are masters of the strategic getaway with an array of warning sensors combined with high speed acceleration that leave humans for dead.
If you try approaching a mob of wild kangaroos the first thing to know is that you are interacting with an intelligent, interconnected community of like-minded individuals; secondly you are closing in on creatures that have far better eyesight, hearing and smell than you. They knew you were on the prowl well before you spotted them and they let you get close! Accept these facts and you're well on the way to learning more about kangaroos.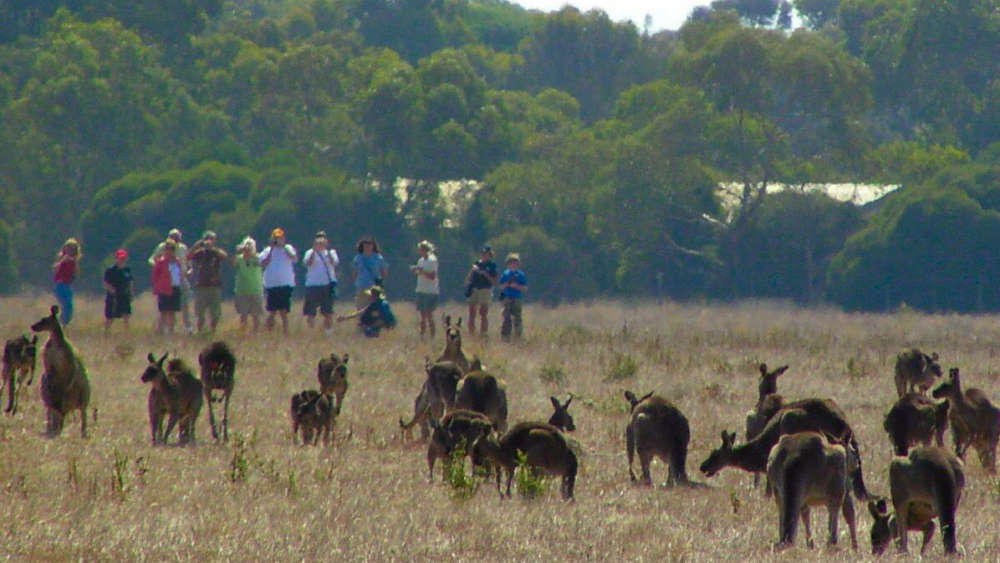 Many people think they can outsmart the mob but they can't, you must let it lead you, and, here's the trick: in your mind — and your actions — you need to be a kangaroo. If you join one of our tours I'll show you how to do this…..
Connecting with wild animals is life-changing but we must do more than that
As a wildlife guide, I've helped thousands of people experience close-proximity encounters with wild kangaroos. I never tire of it; the thrill of the activity, the joy of connecting people with wild animals, the stunned silence as we pause within the mob, then afterwards, the exhilaration when people understand for a brief time they were accepted by wild animals. I've seen people weep after the realisation of what they've done.
Learning about wild animals is an essential part of a wildlife tour but the takeaway is even more important: when people leave they must know how they can help make the world a better place for wildlife.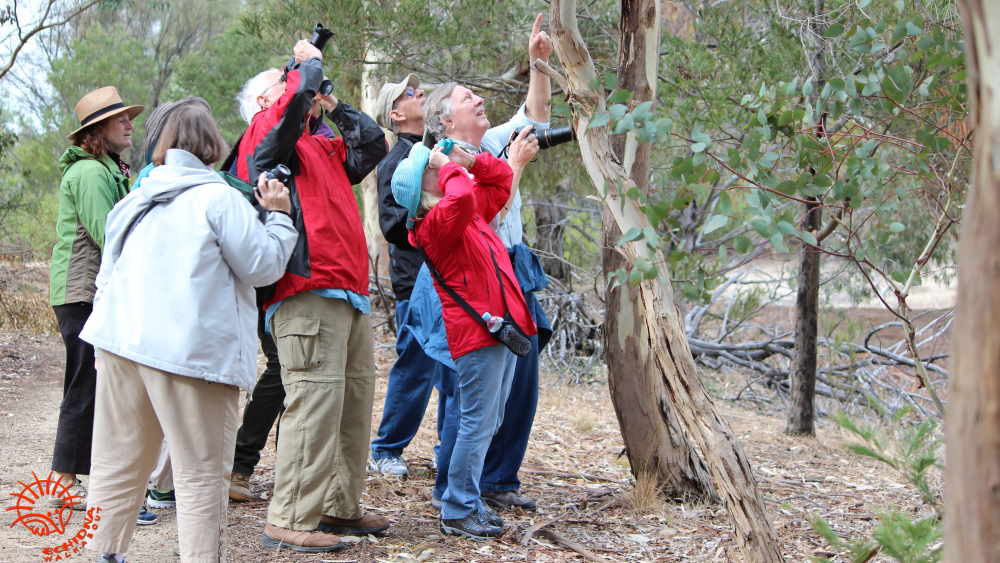 Taking photos of a koala munching leaves in a tree is only the beginning of a multi-dimensional story that's much bigger than the cute photo.
It's too easy to forget that each animal we see needs shelter, food, and most importantly, a reliable ecosystem to live in; wild koalas can't go home to an air conditioned house on a hot day or buy a snack from the local store if they get peckish.
Nor can they extinguish a wildfire caused by climate change.
Each day, every waking moment, is a fight for life for all wild animals, it never ends.
We humans are making that fight increasingly difficult by burning fossil fuels and wiping out the ecosystems wildlife needs to survive.
We need wildlife to trust us. To do that we must learn from our mistakes and act to repair the damage we've caused.
---
How can Conservation Travel Australia help you help wildlife?
Education & Actions
The Koala Clancy Foundation arranges numerous programs that enable participants to not only learn but to act to restore koala habitat. Here's a few examples of what KCF can offer:
Raymond Island Tree Planting
Educational Travel with CISaustralia
Koala News & Science
Advocacy
Action & Events
Wild Koala Day – a national and international Koala Clancy Foundation initiative
Tours to learn
Echidna Walkabout provides touring options that all include learning and monitoring actions. We also collaborate with other affiliates to provide these experiences:
Koala Recovery Experience
Ningaloo Humpback Whales
Conservation tours
Australian Wildlife Journeys
Australian Geographic Travel
Citizen Science
CTA utilises some of the world's best citizen science tools to record wildlife information which enables a better understanding of the state of the natural world. Two examples are:
iNaturalist
eBird
Social media pages
We use multiple social media sites to inform, educate and create actions. Here are a few:
Koala Clancy Foundation on : Facebook, Instagram
Echidna Walkabout : Facebook, Twitter, Instagram
Koala News and Science : Twitter
Mallacoota Birds :  Facebook
---