Soon after Covid closed down tourism in March 2020, Australian Geographic Travel approached Echidna Walkabout Nature Tours looking for travel ideas that would captivate an emerging cohort of travellers wanting to give back to nature and the environment.
Insight Travel Australia was instrumental in bringing the two companies together (see more here)
Echidna Walkabout — long recognised as a leader in conservation travel — was excited to create itineraries suitable for AusGeo's support base which is renowned for its interest in wildlife, wild places and, most importantly, conservation.
Having witnessed how the catastrophic summer of 2019-20 had impacted on wildlife, Echidna Walkabout wanted the tours to focus on the effect of climate change on Australia's flora and fauna.
The question was: Can travel help solve climate change?
The answer : ask participants to join in on monitoring climate impacts then report on the findings. Not surprisingly Australian Geographic jumped on board.
One of the first new tours was a modification to Echidna Walkabout's Mungo Outback Journey which was extended by two days to become the 6 day "Mungo Outback & Conservation Journey".
Echidna Walkabout's tour report from the first trip: "Mungo Outback & Conservation Journey : Searching for the impacts of climate change" clearly shows how tourism can connect to and act on climate change.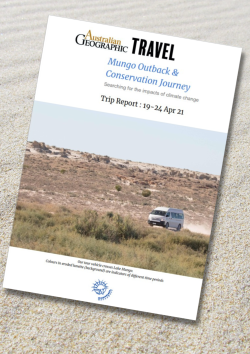 Citizen Science in action
Over millennia arid-land systems have been subjected to planetary variations in temperatures. Being relatively slow these changes allowed wildlife to adapt but recent rapid, human-induced, climate change has had a profound impact on biodiversity — wildlife is unable to keep pace with the change.
This problem is exacerbated by intensive modification of landscapes, particularly by agriculture, which impedes movement of wildlife to more suitable habitats.
At the end of each trip a report on the findings of the research is written and circulated to all participants. What's fascinating is that many tour guests continue to show an interest in the outcomes long after the trip is finished.
The Mungo tour connects travel and climate change with Citizen Science showing how travel can help solve the climate crisis.
---
DETAILS
Find out more about our next Mungo Outback & Conservation Journey.
To book » tel: 1300 241 141 email: travel@australiangeographic.com
The tour travels to three significant semi-arid reserves in Victoria and NSW: Hattah-Kulkyne and Mungo national parks and the Willandra Lakes World Heritage Area.
One of the primary purposes of the trip is to monitor and learn about the impacts of climate change on wildlife and vegetation. We do this by searching out indicators of change and comparing the past with the present.
During the trip participants look for indicators of climate change by monitoring a wide range of signs of change. To make this easier we focus on a few target species that help us understand what is happening in the region. Guests are provided with online tools and hard copy material that helps with the gathering and sharing of relevant information. See some of the tools used for the report here: Species List | Photo Album
Read more about climate change and tourism here: COP26 Travel industry unites against climate change
Other wildlife travel operators with a similar vision : Australian Wildlife Journeys
---
Insight Travel
Echidna Walkabout would like to heap praise on Insight Australia Travel — especially its Director, Birgit Bourne. Without Birgit's vision for travel in Australia, none of the above would have happened.
---